Home > Resources > The Enemies of Happiness - A documentary film by Eva Mulvad
Malalai Joya and the struggle for women's freedom in Afghanistan
The Enemies of Happiness - A documentary film by Eva Mulvad
Wednesday 20 June 2007
The Enemies of Happiness


A film by Eva Mulvad

Co-director Anja Al-Erhayem


Produced by Bastard Film


Distribution The Danish Film Institute
This film is about personal courage – courage to change the world and the courage to stand in the forefront of this battle.
Malalai Joya is a 28 year-old woman from Afghanistan. This film follows her parliamentary campaign to her election as a delegate in Wolesi Jirga, or National Assembly. It is the first democratic parliament election in Afghanistan in over 30 years. Surrounded by security, Malalai Joya spreads her political beliefs despite several death threats. There have been 4 attempts against her life.
Malalai Joya is famous and infamous. It all began in 2003, when the Afghanistan politicians met to lay the foundation for a democracy in "new" Afghanistan. At this meeting, Malalai Joya challenged former Mujahidin leaders (Warlords), who according to her, attempt to maintain power through the new system. "Many of you here in this hall have blood on your hands and you should be tried in the world court." Her comments ignited outrage among the hard-liners who demanded that she be immediately removed from the sessions.
It is her courage and conviction which has made her into a folk hero. But since that fateful day, her life has been in danger. She has been threatened by the very same warlords she challenges. Her campaign becomes a life-threatening project. She is forced to live in hiding and when she is in public, she must be protected by armed guards.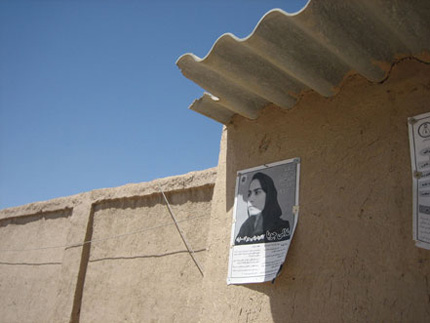 In the Desert
Malalai Joya conducts her parliamentary campaign in the remote desert province of Farah, the heart of poverty in Afghanistan. To be a politician means that one's office must function as a social security office and even a hospital. She is the advocate of her people. They come to her with an assortment of problems. Women who wear black crowd the corriders. The dust settles heavily in the sunlight. It is here where she negotiates with clan leaders and opium kings. Adolescent girls cry because they must marry with the old men.
This film gives a unique insight into the conditions the people of Afghanistan must live. It is a society destroyed by war and run by a tradition. But despite this, there is also a strong longing to change. But how can democracy be implemented in a land where the people are illiterate? In a land where votes can be bought and where women do not have the luxury to leave their children so that they can vote? It is a film that reminds us that democracy can not be implemented merely by the presence of western diplomats and soldiers.
Front Figure
Malalai Joya is no diplomat. She is a controversial front figure for a people who have been promised peace and prosperity, but who continue to dogged by war and poverty. Her uncompromising stance creates hope among a people who demand amends from history's greatest perpertrators.
But even heroes have their critics: there are those who accuse her for creating even more discord in a land that is already rife with conflict.
The Enemy of Happiness follows a radical freedom fighter and a land that is changing. But more importantly it is a film on personal courage and the belief that the ordinary person not only can, but will make a difference.
Contact:


BASTARD FILM A/S


Øster Farimagsgade 16B


2100 KBH Ø, Denmark


+45 35 25 00 25
Press Contact


Josephine Michau


Mail: josephine [at] bastardfilm [dot] dk
World Sales


www.tv2world.dk
US distributor


www.wmm.com
Distribution


www.dfi.dk